Route description
One of the most physically challenging on the route, but also one of the most beautiful, taking you up over the legendary Hammerknuden.
From the beach in Sandvig, follow the route sign (a white man on an orange background) through the gate next to the campsite and relatively steeply uphill. The path winds back and forth up here before descending through the forest to the wide forest path along Hammersø.
Follow the signs past the beautiful Opalsø (the Opal Lake) to the open countryside and fine views from the high hill, before reaching the castle ruins of Hammershus after a few kilometres.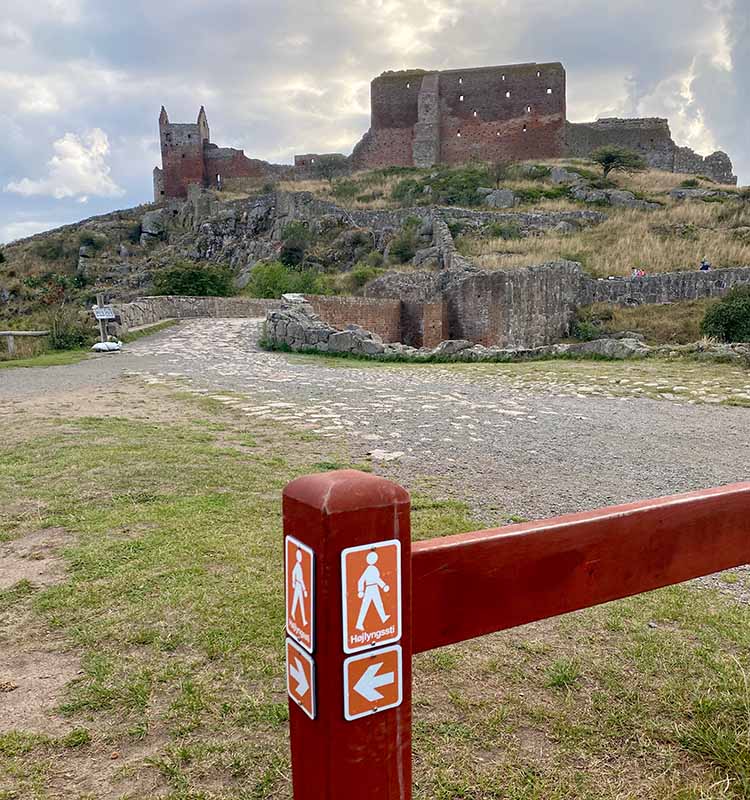 Hammershus Castle Ruins
Here the route turns left around the castle, down into the forest and up again to Slotslyngen with its distinctive landscape of highland meadow, wild forest and ice-shaped cliffs.
Follow the route to Borrelyngvej, which you cross and continue to Ravnedalen (Raven valley), one of Bornholm's least known but still beautiful rift valleys, where tarantulas are said to live, as well as ravens, of course (hence the valley's name).
Højlyngsstiens 5 hiking stages:
Leg 2 – Ravnedalen to Rø Plantage
Leg 3 – Rø Plantage to Rytterknægten i Almindingen
Leg 4 – Rytterknægten to Ølene
Places on the route:
On this hike, you get a chance to visit the following places: