Route description
From Borgedalssøen in Rø Plantage, follow the orange dots marking Højlyngsstien up the steep steps. The route takes you down to the lake again and along its beautiful shore before reaching a wide forest path. Keep an eye out for the signs, because after a short while you have to take a sharp right up through the forest on hairpin bends.
On the other side of the plantation you'll walk along the road for a few kilometres, and then the route reaches Bornholm's largest forest, Almindingen Forest.
Here, you'll first walk along mainly wide forest roads past sights such as Rokkestenen (the Rocking Stone). This is one of the most famous because it's easy to get to, and at 16 tonnes is an impressive sight, but unfortunately it can no longer be rocked.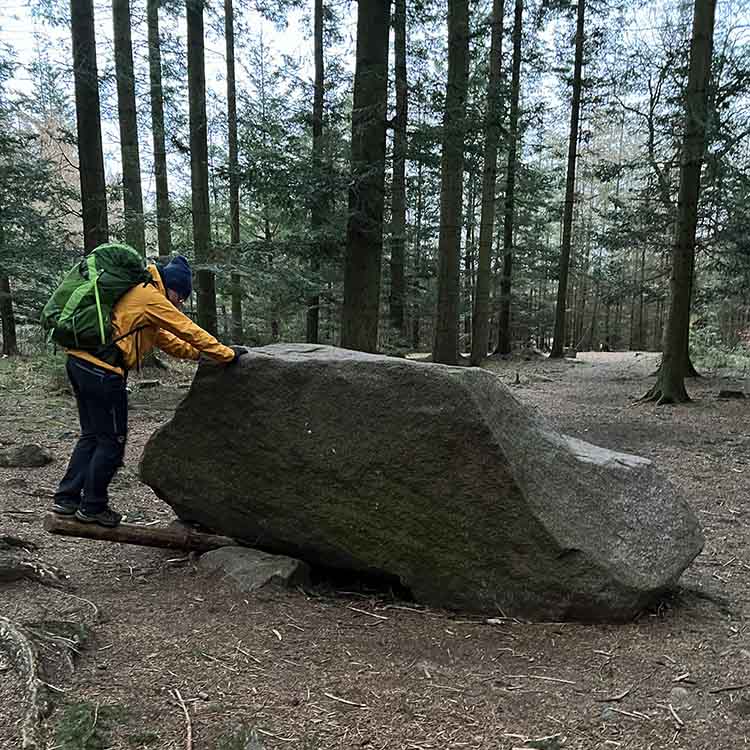 The Rocking Stone
Further on, you cross the main road that runs across the island. On the other side is Lilleborg (Little Castle), the old royal castle, which only existed as a royal castle for about 100 years before it was burnt down in the 13th century, and has been a ruin ever since. It is located on a 16-metre-high rock outcrop, and from the top you have a lovely view down over the lake with the special name of Pølsesø (Sausage lake).
Cross the bridge on the other side of Lilleborg and follow the signs steeply uphill through the forest until you reach the paved road to Rytterknægten. This is a good spot to take a break. (When the Kongemindet tower is renovated in summer 2023, you will once again be able to take the trip to the top and enjoy the view.)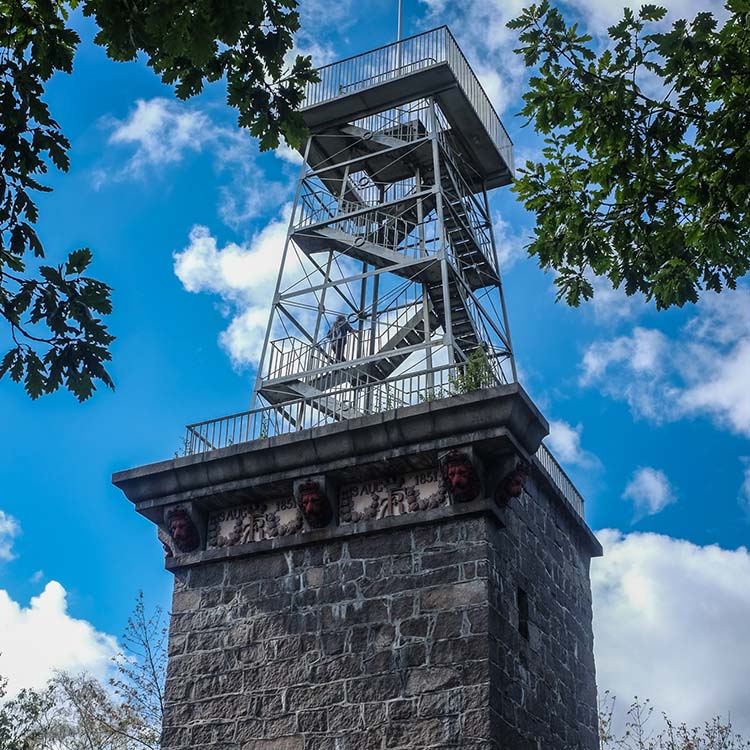 Bornholms highest point – Rytterknægten
Højlyngsstiens 5 hiking stages:
Leg 2 – Ravnedalen to Rø Plantage
Leg 3 – Rø Plantage to Rytterknægten i Almindingen
Leg 4 – Rytterknægten to Ølene
Places on the route:
On this hike, you get a chance to visit the following places: