Route description
Stenhuggerstien is not just steep, rocky and hilly: It's also of historical interest. Because here on the "back" of Hammerknuden, in many places you'll walk exactly in the footsteps of the stonemasons as they walked to and from their homes in Sandvig and the rock face to break granite or to Hammerhavn (Hammer Harbour) to excavate stones.
If you park at Sandvig beach, the route starts just north of/next to the Sandvig Strand campsite: Follow the red dots west across the grass opposite the beach, through the gate, up over the rocks and then left and steeply down again to the gravel path north of Hammersø.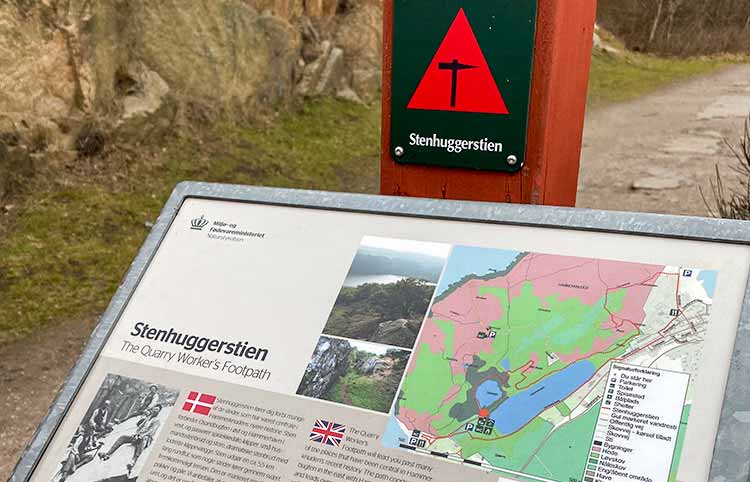 The next kilometre or so is straight ahead along the lake, before you have to climb steeply to the three "floors" of the former quarry just before Opalsøen (the Opal Lake). The first part of the path runs on the remains of an old track, where the tip wagons once drove loaded with granite. Then you're out in the open and have a great view of northern Bornholm. From up here you can see both the old stonemasons' houses, Hammershus and Lake Hammersøen about 50 metres below you.
The route winds down again past the impressive Opalsøen in the middle of the former granite quarry and on to Hammerhavn. Take a break here before continuing up to Lake Hammersøen and the easy, undulating gravel path on the lake's southern shore.
The last part back to Sandvig beach and the car park is on paved road through Sandvig.
Places on the route:
On this hike, you get a chance to visit the following places: