Route description
The first part of the yellow route follows the slightly shorter green route: From the car park in Vang along the coast, into the former granite quarry and steeply up to the path at the top of the quarry.
At the end of the quarry, where the green route curves around the mighty hole in the ground, follow the yellow markings to the right and south along a gravel road past a few holiday cottages.
Keep an eye on the markings, because about 400 metres down the road the route turns right along a narrow path into the forest to the Klondyke area. The area got its name almost 200 years ago because the owner of the defunct Vang Stenhuggeri (Vang Stonemasons) believed that the stonemasonry of the 1800s was the area's own source of wealth, or Klondyke, just as goldmining was for America.
Today, however, the most interesting thing in this small area near the quarry is the lovely little hidden lake you pass on the way to the coast and to Kyststien (the Coastal Path).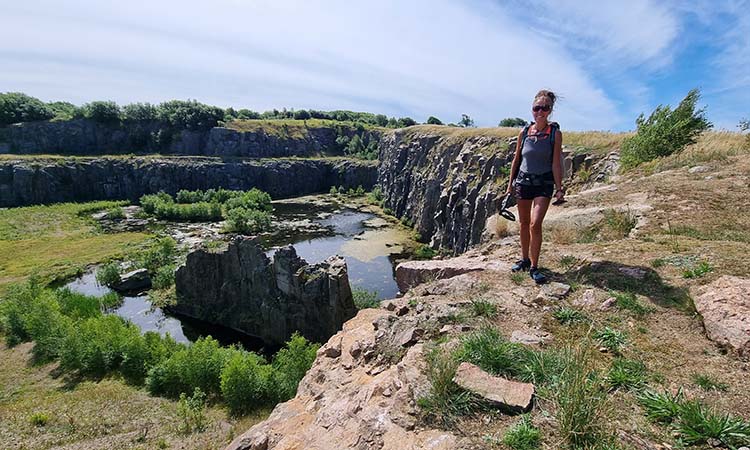 This part of Kyststien is hilly and rocky, but with great views across the Baltic Sea. Follow the route for a few hundred metres until the path makes a sharp turn – here you turn off and enter Blåskinsdalen.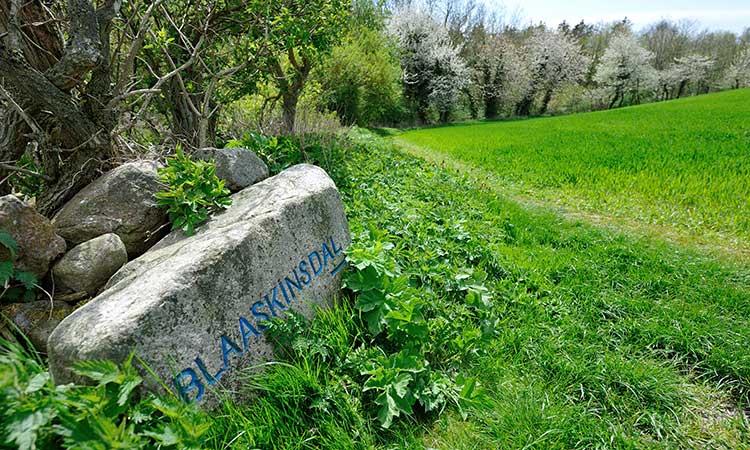 On the route to Blåskinsdalen
The beautiful rift valley of Blåskinsdalen is lush and verdant, and in spring is covered in blue anemones, which is how it got its name. This is also an area of untouched nature, so be prepared for fallen logs and tree roots on the stretch through the valley.
On the other side of Blåskinsdalen, the route turns left along a gravel road and then past a landscaped wetland in Almeløkkebruddet – a lesser-known part of Vang Granitbrud, but no less impressive with its steep cliff sides and piles of granite shards all around. You'll also see evidence of the site's history in the form of rusting machinery and a quarry facility.
Follow the route into the forest along the narrow nature trail that winds up and down through the rocky Ringedalen valley until you join the green route shortly before Vang Vandmølle (Vang Watermill). Both routes go from here to Vang.
Places on the route:
On this hike, you get a chance to visit the following places: