Route description
The first part of the route follows the blue route, Hammerknuden Rundt (Round Hammerknuden): Set off at the end of the car park by Sandvig beach and along a wide paved path along the coast to Hammerodde Fyr (Hammer Odde Lighthouse). Then both the blue route and the Salomon Trail, marked with green dots and pictograms, turn down onto the narrow nature trail by the water.
For the next kilometre, follow the path along the coast, which is mainly gravel and rocks, until you reach the ruins of the former Salomon's Chapel.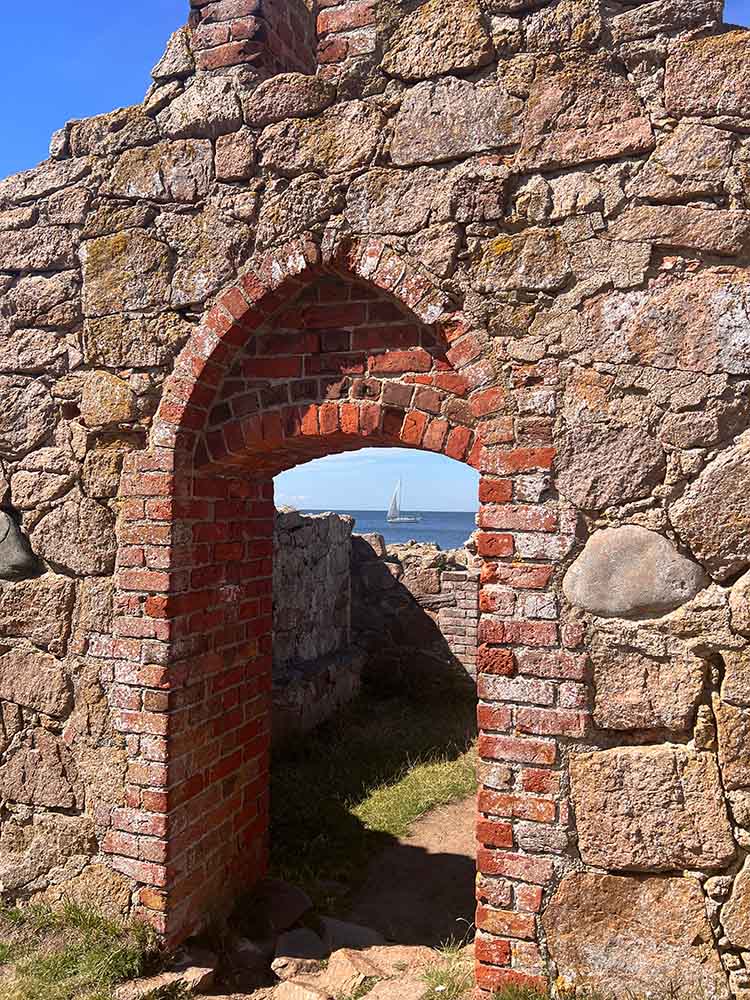 Salomon's Chapel
The chapel dates back to the 14th century and is located down by a natural harbour. In the Middle Ages, the chapel was used by herring fishermen to bless their catches. The walls of the chapel are still relatively intact and look beautiful against the backdrop of wild sea. A stop here is an absolute must.
You can also go in search of the holy spring next to the chapel. In the Middle Ages, it was said that drinking from the spring would cure you, and for the next 400 years the water was known for its fresh taste.
After Solomon's Chapel, turn off the blue route around Hammerknuden and follow the path into the forest behind the chapel.
The trail is easy to follow and you'll walk in a mix of forest, low vegetation and open rocky areas. The ascent is moderate – a good 20 metres of altitude have to be negotiated from the chapel to the top of the knoll, before descending gently towards the beach at Sandvig.
Places on the route:
On this hike, you get a chance to visit the following places: