Below, you can read about our suggestions. You are invited on a journey that takes you through the most delicious ice cream places, tasty treats, good chocolate places and cozy dessert places.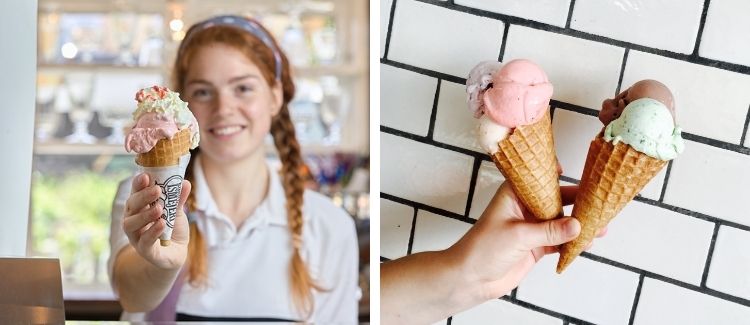 Homemade ice cream
There are countless places on Bornholm where you can buy a tasty homemade ice cream on a hot summer day.
Sandvig IS Kalas offers seasonal ice cream flavors made from local produce. You may find flavors such as apple-basil or the Danish specialty ´cold buttermilk soup´. – And even better, you can enjoy the delicious ice cream with a fantastic view over the Baltic Sea.
Bornholms Ismejeri knows their way around ice cream. Not only do they manage to make wonderful ice cream classics, but their curiosity for flavor combinations unfolds in many delicious and different flavors. The ice cream parlor has made ice cream from e.g., beer, lavender, spruce needles and chestnuts.
One of Bornholm's oldest ice cream places is Gudhjem IS, it has been in the same family for 3 generations. The ice cream place is iconic for Bornholm and many guests remember this particular parlor. They offer lots of delicious flavors and you can also get one of Denmarks biggest ice creams, the Apollo.
Are you looking for a unique ice cream experience that at the same time tastes absolutely fantastic? – Then we recommend that you stop by Lykkelund Goat Dairy. Among other things, they produce ice cream made from goat's milk, we have tried it and we recommend it. It is a delightful ice cream that tastes great!

Sweet treats
Are you in the mood for treats or do you want to buy a gift for your family and friends, then you should visit the "candy" shops of Bornholm.
Is licorice your favorite treat? Then visit Bülow Licorice, it is worth it! In addition to their classical Danish salty-licorice, they produce many delicious chocolate-coated varieties. Only downside: They are addictive!
At Bolcheriet, they make handmade hard candy filled with lots of flavor and in many delicious varieties. In the shop in Svaneke you can even experience the candy cookery and see the skilled candymakers work.
If, on the other hand, the mood is for caramels, you should visit Karamel Kompagniet and Karamelleriet. Both caramel makers, make their own unique caramels, that taste absolutely delicious! – It is highly recommended to visit both places.

Chocolate dreams
If you, like us, love chocolate, then read our recommendations for great places to taste delicious chocolate on Bornholm.
The chocolate shops have positioned themselves perfectly to form a chocolate route.
Start your route in Gudhjem at Bech Chokolade, here you will find a large selection of delicious handmade chocolate pieces. Among the most popular pieces, you will find the hand-dipped scout dough.
Continue along the coastline to Svaneke, here you will find Svaneke Chokoladeri, which not only makes fantastic chocolate, but inside the shop, you have the opportunity to see how the company makes their products.
The next stop on the route is Kjærstrup Chokolade in Snogebæk. Kjærstup has existed since 1999 and has since then produced handmade quality chocolate. If you decide to visit Kjærstrup, we can, besides their good chocolate pieces, also warmly recommend their handmade cream puffs, which come in many varieties.
You should also try Pure Rainforest Chocolate, which makes delicious dark chocolate with cocoa from Fiji. Pure Rainforest Chocolate also helps enhance the Rainforest of Fiji.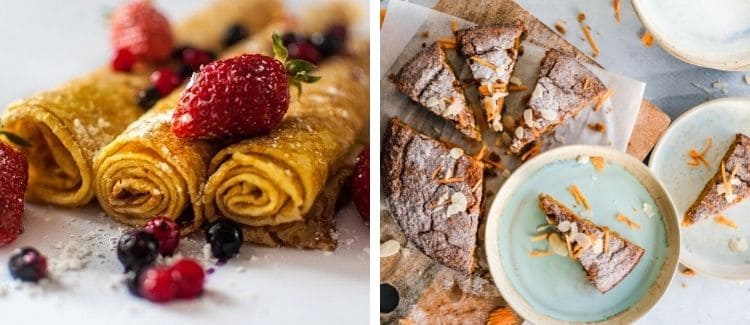 Great places for cake
These are our suggestions for places where you can get a good cup of coffee and a tasty piece of cake.
Fru Petersens Café, located not far from Østermarie, offers a Danish old-fashioned cake buffet in cozy surroundings. You can find homemade cakes like pastry, layer cake, muffins, cut cakes, cookies – and so much more! The cakes and decor give you a traditional old-fashioned Danish cake experience.
On the square of Rønne, Kaffebaren is located. It is a cozy little café that offers delicious cakes, coffee, juices, smoothies, and for the hot summer day they make a fantastic ice coffee. If you need a little break from shopping, then Kaffebaren is the perfect place.
At Pandekage Huset (The pancake house) in Gudhjem you will find, yes pancakes, and in many delicious varieties. They offer something for everyone and in cozy surroundings. Pandekage Huset is definitely worth a visit!