Route description
For most people, no trip to Bornholm is complete without a walk around the distinctive promontory to the north: Hammeren (the Hammer) or Hammerknuden. The most popular route follows the coast most of the way and starts at the end of the car park at Sandvig beach.
The hike is a round trip, so in principle you can start anywhere. However, it makes sense for most people to park at Sandvig beach, where there is a large car park. Follow the blue dots from the car park along the coast along a wide paved path to the first part towards Hammerodde Fyr (Hammer Odde Lighthouse). The lighthouse was built in 1895 as a supporting lighthouse to Hammerfyret, which is located on the Hammeren itself, but which could not be seen in dense fog.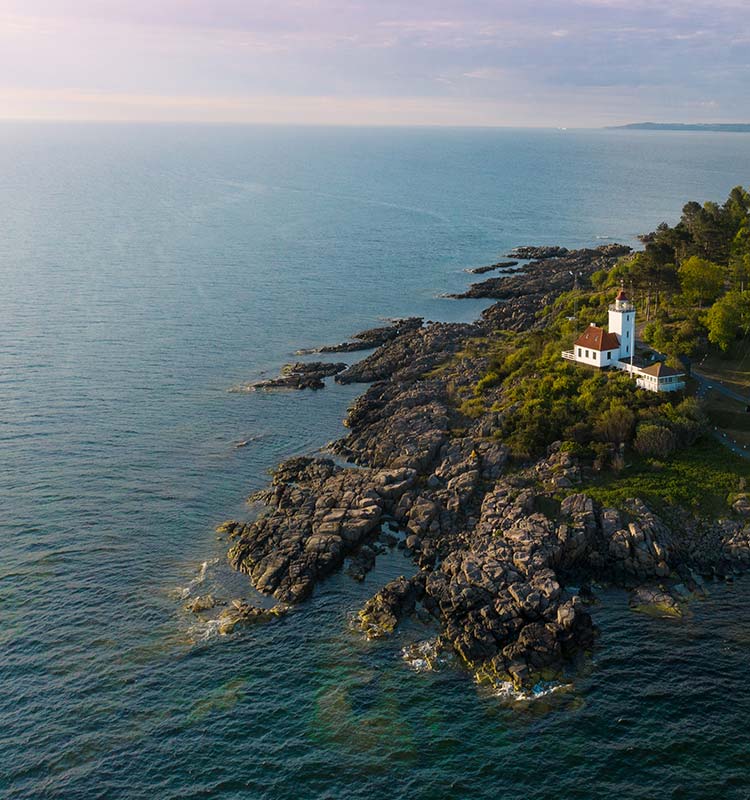 Hammerodde Lighthouse
At the lighthouse, turn off the paved road onto a narrow, hilly, rocky path close to the water, and the next three kilometres around Hammeren are walked here. Occasionally the path widens and is made of gravel, and it also has some flat stretches. However, be prepared for some ups and downs on uneven rocky surfaces; in some places you may need a helping hand.
Along the way you pass the over 700-year-old ruins of Solomon's Chapel and you'll go far up over the sea to an amazing view down over Hammerhavn (Hammer Harbour).
Just before you reach the descent to Hammerhavn, the route turns sharp left away from the coast (and the Kyststien, which is also here but goes down to the harbour) and steeply uphill towards the rocky knoll above Opalsøen (the Opal Lake).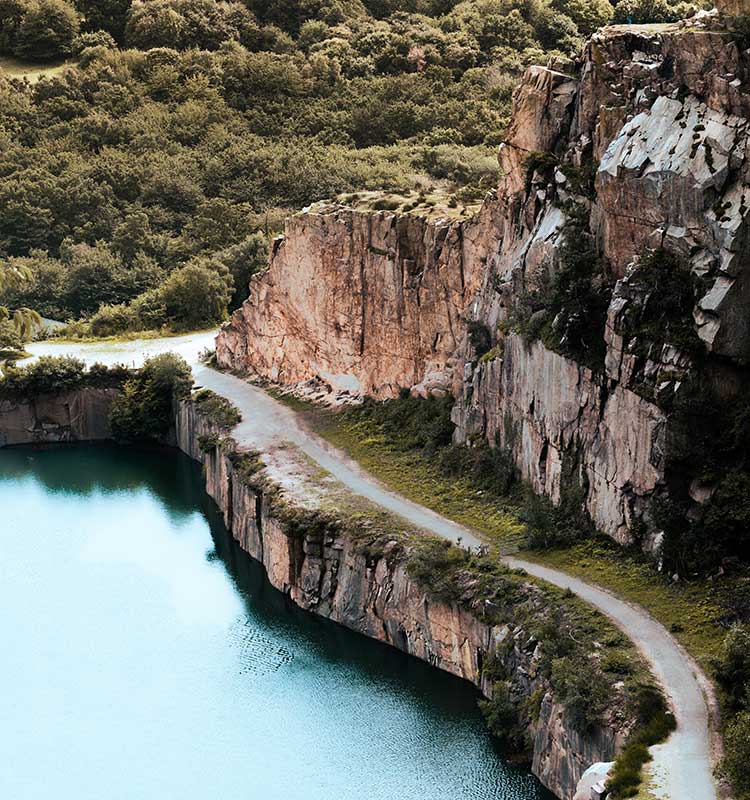 The Opal Lake seen from above
Keep a close eye on the signposts, because for the next kilometre the route winds several times through the tree-covered terrain high above Opalsøen. Before it goes down again on the other side of the lake, you reach the shore of Hammersø, which you follow back to Sandvig.
Places on the route:
On this hike, you get a chance to visit the following places: