Route description
Follow the red markings from the car park at Lilleborg towards the lovely Christianshøjkroen inn. Shortly before the inn, the route turns right into the oldest part of Almindingen Forest and passes both the large dawn redwood tree and the over 6-metre-high granite Prinsestøtte, carved in honour of King Christian V in 1688. Both are in the Christianshøj area on your way to the ruins of Gamleborg (the Old Castle).
Gamleborg was Bornholm's main fortress in Viking times and is situated on a rocky outcrop on the edge of Ekkodal (Echo Valley). Today it consists only of the remains of a few buildings and ramparts. So keep an eye out for the red markings – the route goes through the ruins and then takes a series of bends along wide forest paths on through Almindingen Forest.
When you reach the paved road towards Rytterknægten, the terrain becomes more challenging: follow the markings steeply downhill on rather uneven (and definitely not pram-friendly) terrain to Lilleborg.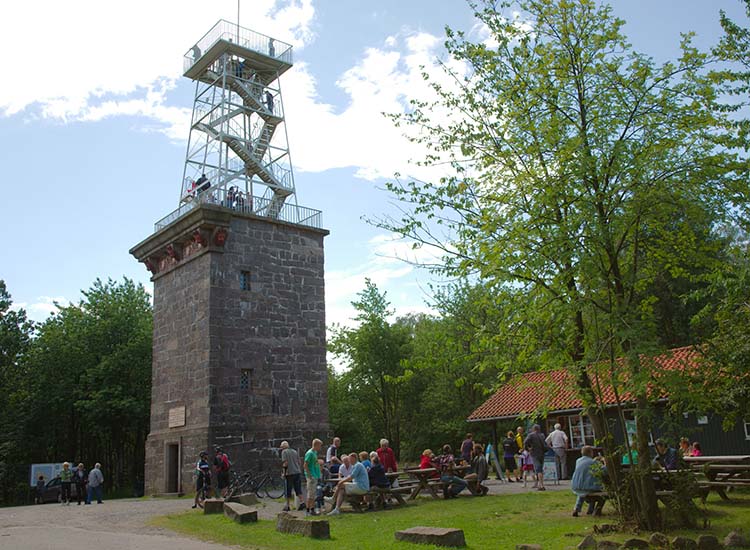 Rytterknægten is Bornholm's highest point
Take a break at Lilleborg (Little Castle), the old royal castle with a special history: It only existed as a royal castle for about 100 years before it was burnt down in the 13th century and has been a ruin ever since. It is located on a 16-metre-high rock outcrop, and from the top you have a lovely view down over the lake with the special name of Pølsesø (Sausage lake).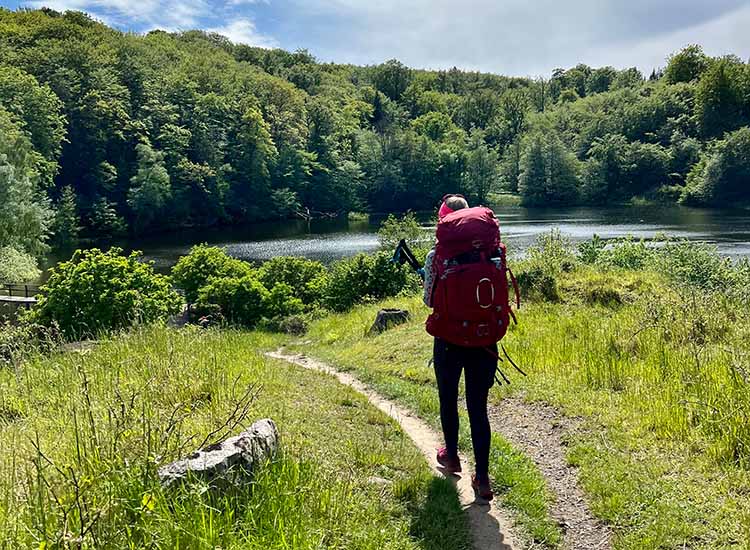 View over Pølsesø
The second "loop" of the hike starts after Lilleborg: Cross the paved and often busy road between Rønne and the eastern part of the island and enter the forest.
Follow the red dots around the forest roads and make a stop at another of Bornholm's impressive erratic boulders. This weighs 16 tonnes, but can no longer be rocked.
The route is a round trip, but is laid out in two loops that almost meet in the middle, so if you don't have the time or inclination to walk the whole way, you can make do with one half; the most beautiful, but also the hilliest and potentially boggy, is the trip past Gamleborg and Lilleborg.
Places on the route:
On this hike, you get a chance to visit the following places: