Route description
From the car park in Vang, follow the gravel path south along the coast until you reach the impressive Vang Pier. Take a walk along the Pier and enjoy the view across the countryside before walking up towards the former Vang Granitbrud under the DGI Bridge: an artistically designed rust-red steel bridge built between the steep granite walls.
Follow the green markings up to the shelter site in the Ringe Hills and note that from here you should not follow the "natural" path past the shelter, but the path that goes under the building and then further up a narrow steep path until you are above the quarry.
From here you have a fabulous view down over what was once a bustling granite quarry. Granite was quarried here from 1896 to 2004, including granite used for building the Great Belt link, and when that ended, the area was turned into a nature centre. The green route takes you in an arc around the quarry on the Ringe Hills, past shelters, along trails, mountain bike tracks and the wetlands.
You'll also see a distinctive elongated rock in the middle of the lake far below you – it's been named the Himalaya and is a magnificent sight in itself.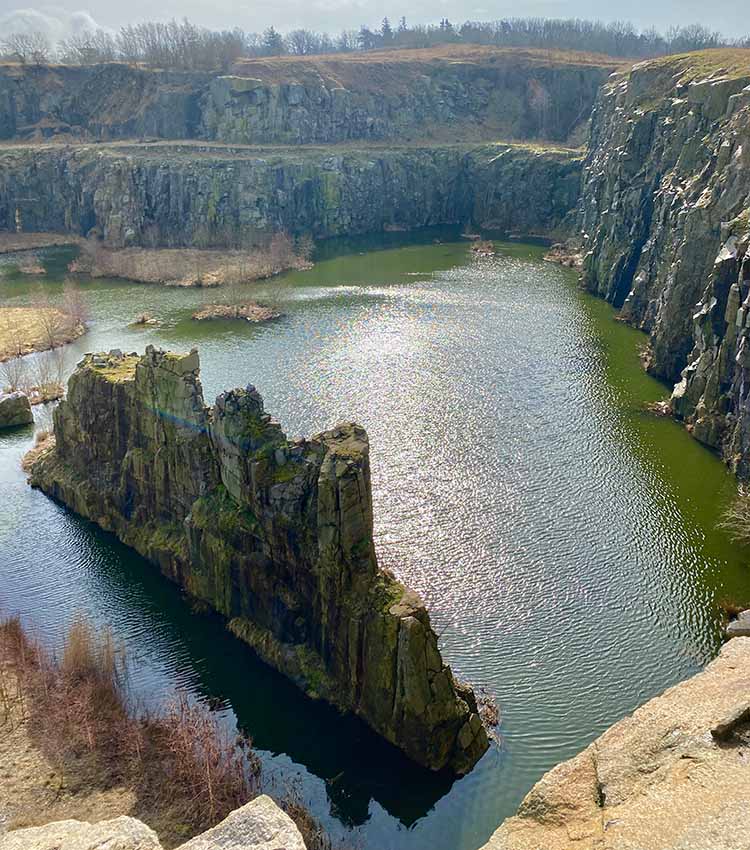 The Himalaya Rock
Cross the car park west of the quarry and follow the route back down towards Vang. Along the way you'll pass the listed Vang Vandmølle (Vang Watermill), a beautiful half-timbered building nestled in a hillside of the rocky landscape.
Places on the route:
On this hike, you get a chance to visit the following places: