Route description
The area around Aakirkeby in central Bornholm is not the most frequented hiking route. It's a shame because right here at Aakirkeby there is a hiking trail that is definitely worth doing.
It's a round trip, so there are several places to park. The obvious one is at the discovery centre NaturBornholm, which exhibits information about Bornholm's geological history. And that's what the Linjer i Landskabet route is all about: To show you how the island came to be.
From the car park, walk past the NaturBornholm building to the path that runs behind the building. Turn left and follow it until you reach a gravel road, from which you turn right. From here, the route is marked with oversized STI signs – first across meadows and then onto a country road before entering the narrow stretch of forest that surrounds Læså.
The nature on the narrow path along the river is an experience in itself, but also note the many types of landscape: the grey shale, which is evidence of fossils from an animal group that became extinct 450 million years ago, the brown layer of bentonite, which is volcanic ash, the sandstone, various rocks and much more. Learn more about it by downloading the Linjer i Landskabet app, which contains audio files with stories about the places of geological interest you pass on the route. Several places on the route have benches with signs indicating the type of geology you can see there.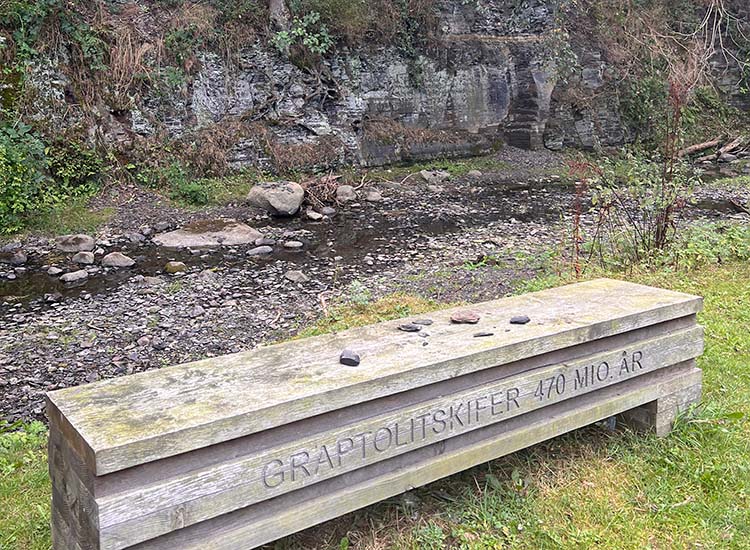 Benches have been set up at several points along the route.
After about 7 km, turn right away from Læså and follow the road for a few kilometres. The route here is not signposted, so keep the app with the map handy so you don't make a wrong turn.
The last stop just before Naturbornholm is Klintebakken, also known as the fault line between the granite bedrock of North Bornholm and the sandstone bedrock of southern Bornholm. Right here is the fault in the landscape caused by the earthquake that followed the stresses in the earth's crust more than 200 million years ago. It is also from here that you can see a fossilised seabed as it looked 540 million years ago.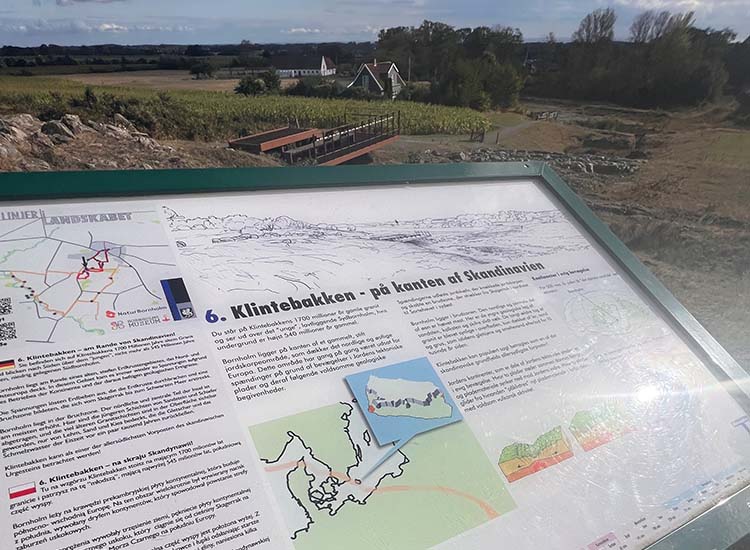 Klintebakke
Follow the wide path back to NaturBornholm.
Places on the route:
On this hike, you get a chance to visit the following places: