Route description
Some routes are more beautiful than others – but Finnens Fodspor tops the list, right from where you set off in the car park at Hammershus and from there all the way to the ruin. Follow the pblue dots and pictograms down into the valley between the ruin and the Visitor Centre, where you might be lucky enough come across a flock of sheep.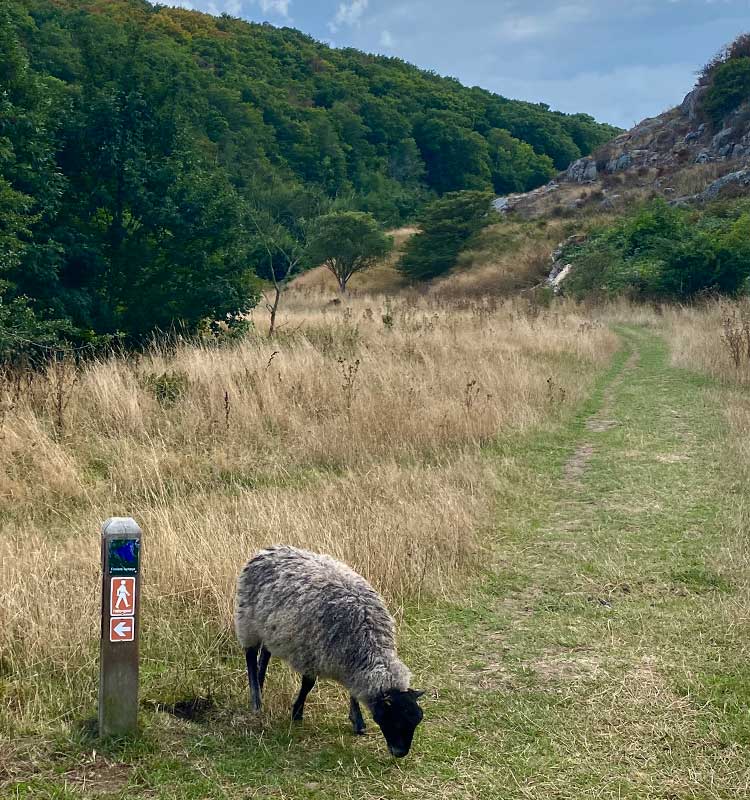 Sheep on the path at Hammershus on the way to Finnens Top
The route then turns into the forest and climbs relatively steeply between trunks and rock walls.
Take care where you put your feet, because the path is a mangle of tree roots and rocks until you reach the end of the forest and a vast heath landscape opens up before you. But this landscape is still dotted with rocks – both on the path itself and especially the larger boulders scattered across the heath up here far above the sea.
This is a particularly beautiful sight in autumn when the many heather plants are in bloom, but the view from Finnen's Summit is magical all year round. Finnen's Summit is marked with a stone with the viewpoint's name and is 81 metres above sea level. By comparison Hammershus is "only" 74 metres above sea level.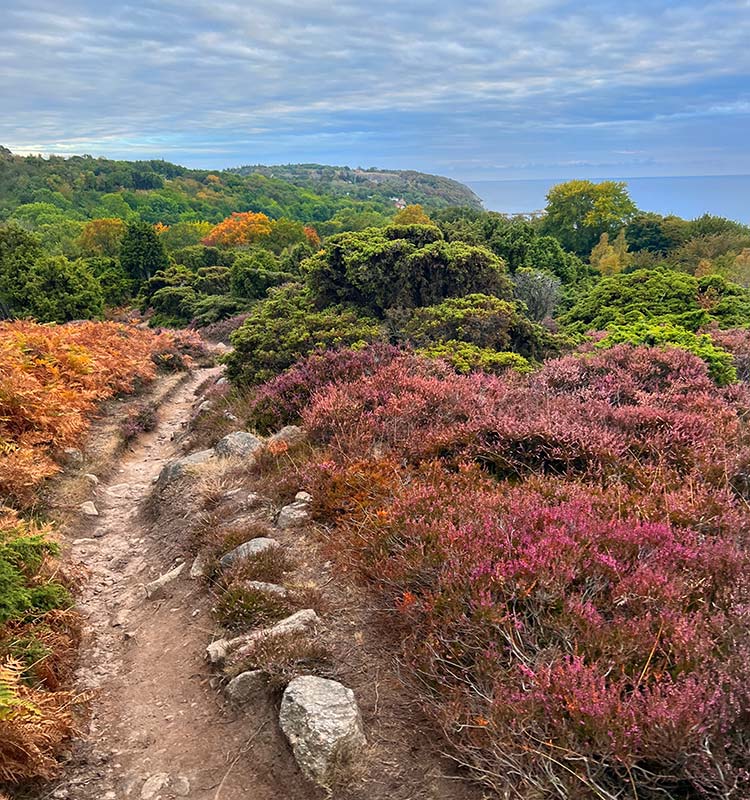 The view from Finnens Top is magnificent all year round
At the end of Finnedalen, the route does an almost 180-degree turn and heads north along the Kyststien trail. This time you walk below the Finnedalen ridge until the path dips into the forest and winds its way along forest paths to the castle ruin of Hammershus.
Just before Hammershus you have a steep climb to follow the route left of the ruin. It's worth the effort though, because from the opposite side of Hammershus you can see both the Løvehovederne (the Lion Heads) rock formations in the depths below you and the coastline further north.
Follow the purple markings for the last few hundred metres around the old castle ruins back to the car park.
Places on the route:
On this hike, you get a chance to visit the following places: