Route description
From the car park at Ekkodalshuset, walk down into the valley and turn right along the wide gravel road. Follow the path across the valley and up the steep steps into the woods on the opposite side. (If you can carry a pram up here, it is possible to do the walk with a pram.)
Follow the blue markers along mainly wide forest roads until you see the iconic tower on the horizon, marking Bornholm's highest point, Rytterknægten, 162 metres above sea level.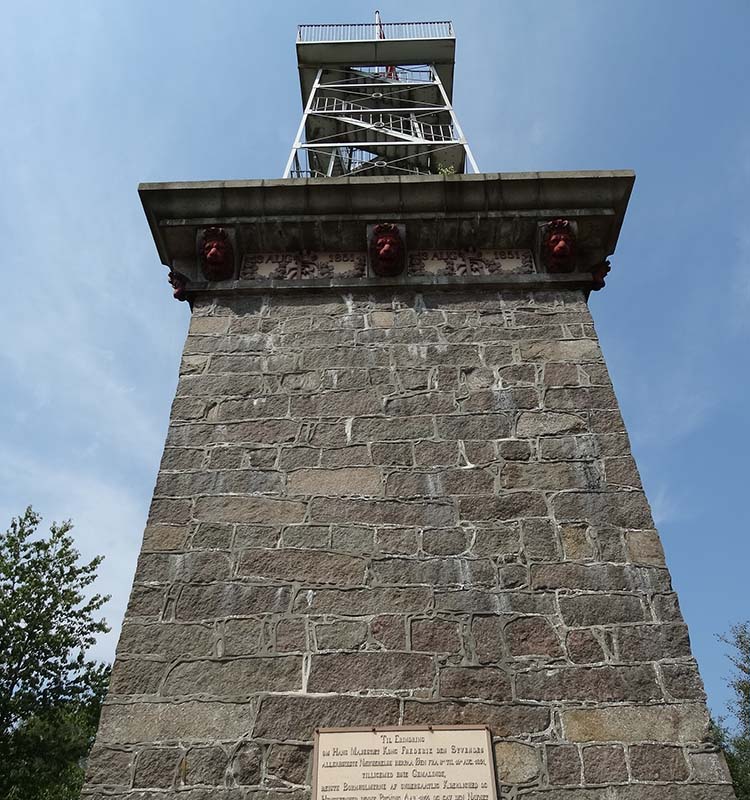 Kongemindet in Rytterknægten
The tower is called Kongemindet (royal memorial) and was built in memory of King Frederik VII and Countess Danner, who visited in 1851. In 1899, a steel tower was built on top of the stone building so that the view would be intact and not, as was the case, well on its way to disappearing behind the growing forest surrounding Kongemindet. If you climb the steps in the tower and reach the top, you'll be 184 metres above sea level and have a fantastic view. On a clear day, you can see most of Almindingen Forest, so the climb up the steep steps is definitely worth it.
The old tower is normally open all year round, but is under renovation until summer 2023, and access to the tower is therefore currently closed.
So for now, just enjoy a cup of coffee from the cosy café next to Kongemindet instead.
Places on the route:
On this hike, you get a chance to visit the following places: