Route description
From the parking lot at Madsebakke, follow the signs towards the petroglyphs. Take some time to explore Denmark's largest petroglyph field, located here at Madsebakke. This field features human figures, animals, objects, and symbols carved, chiseled, painted, or etched into stones and rocks. Among the fascinating carvings at Madsebakke, you can find ancient depictions of ships and sun crosses, crafted over 3,000 years ago. By using the QR code on the signpost, you can examine the petroglyphs more closely than with the naked eye.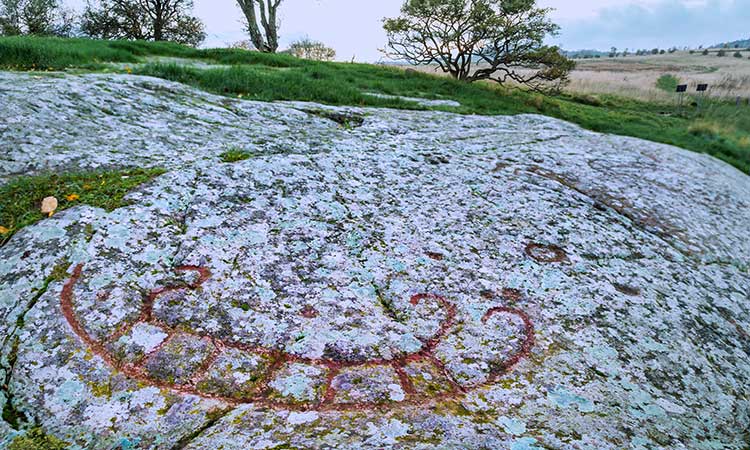 Petroglyphs
From Madsebakke, follow the yellow arrows along the wide footpath west across the fields. Enjoy the panoramic views of the vast landscapes and the sea behind you. The route takes you up a small set of stairs (with a groove for strollers and more) to the first of three circular footbridges that give the Circular Path its name.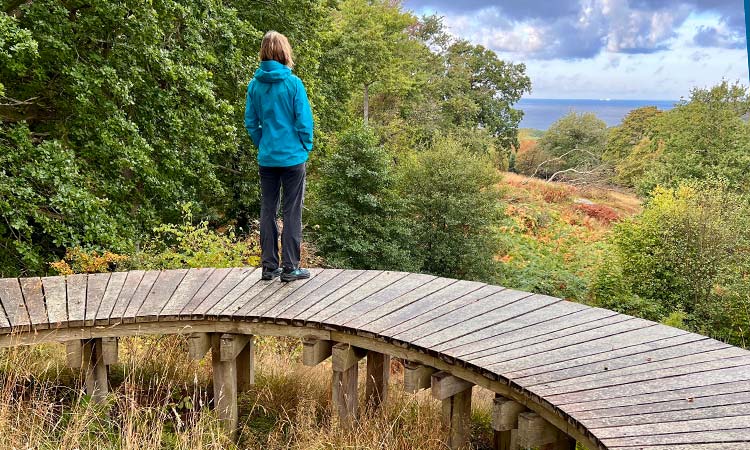 Scenic Overlooks
From here, you'll enter the forest, following the forest road sharply. You may share this road with the cattle that roam freely in the enclosed Nørreskov area. After a short distance, you'll reach the next circular footbridge. This one is only 7 meters in diameter, but from it, you'll have a beautiful view overlooking Hammerknuden and the sea.
Follow the yellow arrows through Nørreskov to Langebjergvej, which you'll cross, then follow the terrain path alongside the road to Hammershus.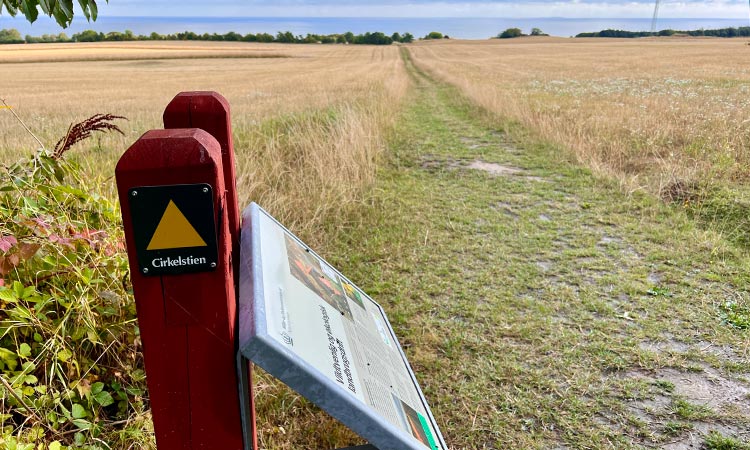 Follow the yellow arrows on the route
There are three of these fascinating circular footbridges on the Circular Path.
The third and largest can be found by taking a short detour along the dirt road to the left, just after you encounter the smallest footbridge. The detour is a few hundred meters long, but if you plan to hike the Circular Path both to and from Hammershus, you can take the detour on your return journey. After passing the third footbridge, you can follow a well-marked path across the field and through the forest on the other side of the circular footbridge.
The path ends at the stairs you ascended on the outbound journey, allowing you to complete the Circular Path and return to the petroglyphs and the parking lot at Madsebakke.
Places on the route:
On this hike, you get a chance to visit the following places: