Route description
The first part of the yellow route follows the red route: From the car park at Klintebygård you pass Fjeldstauan, then Rokkestenen (the Rocking Stone) and then shortly after you go up on the cliff above Grydesøen (Pot Lake) for a magnificent view from the top.
From here, the yellow route winds west through Grydedalen (Pot Valley) before turning right up to Midterpilt – another of the Paradisbakkerne's viewpoints. With a height of 113 metres above sea level, Midterpilt is the highest point of Paradisbakkerne and is marked by an impressive man-sized cairn known as Pilt. In Bornholm dialect, this word is used exclusively to describe cone-shaped cairns that serve to show the way through areas such as the old heathland of Højlyngen.
Follow the path down from the viewpoint and across the heather-covered plateau towards Majdalen, Bornholm's own Grand Canyon, flanked as it is by steep, towering cliff walls. Be prepared for some climbing and descending to and from the valley and make sure you note the very special tree on the way down the valley: The candelabra tree stands tall and proud and is crying out to be photographed.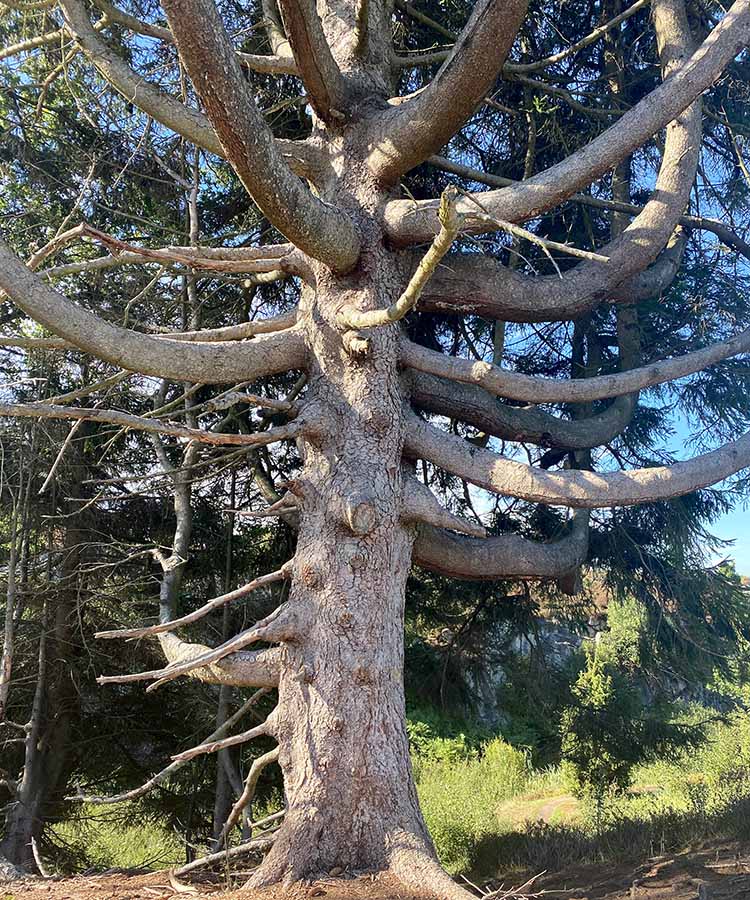 The beautiful candelabra pine tree
After the open Majdal valley, the route once again takes you through trees and stumps on a mix of rocky ground and occasionally muddy forest bed on an occasionally undulating terrain. You will pass the erratic boulders of Trommerestenene, named after Anders Trommer, who was a drummer in the Bornholm militia, and the impressive Dybedal cliff, which is just 2-3 metres wide and up to 8 metres deep.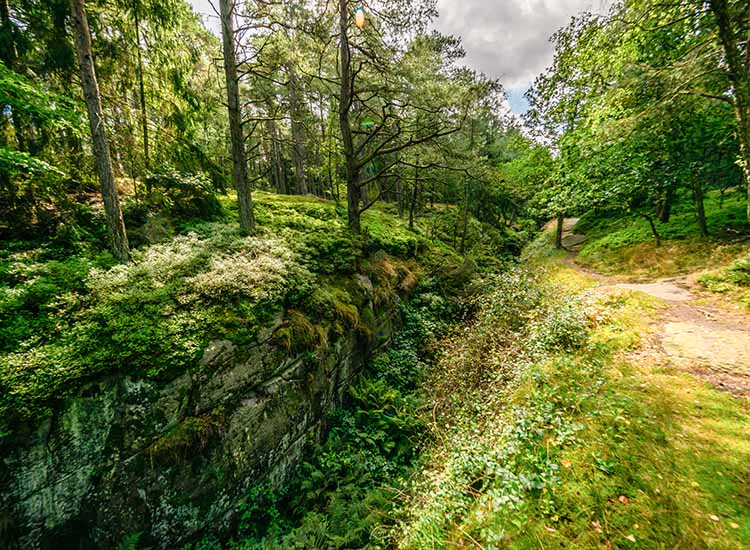 Dybedal valley in Paradisbakkerne
Then the route goes along Gamledam, a small dammed lake bordered by rocks at the northern end. Take care here because the path is narrow and is literally on the shore of the lake.
The last kilometre and a half takes you more or less straight along a relatively wide forest road back to the car park.
Places on the route:
On this hike, you get a chance to visit the following places: