Route description
Follow the path into the woods opposite Flagermusehuset (the Bat House) – the wonderful (and fascinating) interpretive centre where you can see and learn about bats – until you reach Lake Borgedalssøen. The dark lake is artificial, but no less beautiful for that – take your first break on the bridge that crosses it, or on the small patch of grass on the other side.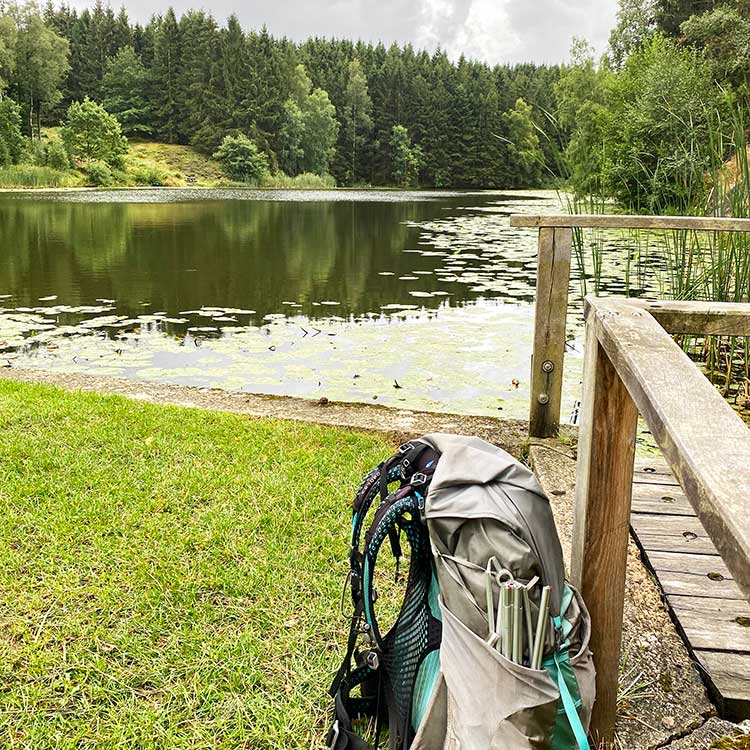 Borgedalssøen
From here, the route turns sharply to the left up a steep flight of steps before winding down again, bringing you close to the lake shore. This section is a narrow nature trail with tree roots, so keep an eye on the ground.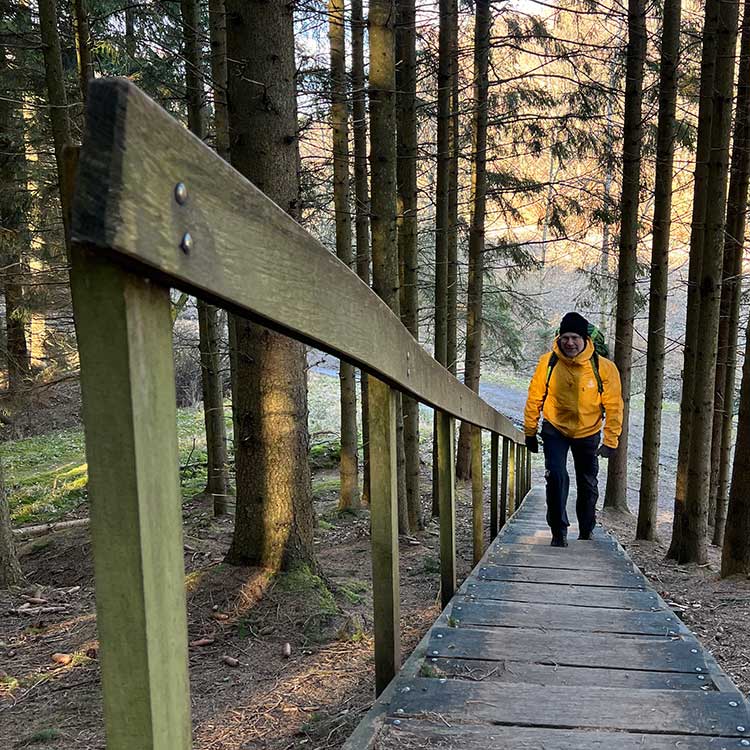 After about a kilometre, you cross the lake again and reach a wide forest road with open terrain. It's easy to walk on, so keep an eye out for the yellow markings to make sure you don't go too far. The route takes a sharp right turn on a spang (a narrow wooden bridge) over marshy terrain a few hundred metres ahead. Follow the yellow arrows steeply up between the trees on the opposite side.
The second half of the walk is mainly on wide forest roads until you reach the castle. The castle is a refuge from the Iron Age, and today only a few ruins remain. However, the landscape is still magnificent – the path winds up the 12-metre-high and approximately 30,000 square-metre rocky outcrop that rises up in the middle of the two crevice valleys in which Rø Plantage is built. Note the majestic pine trees swaying in the wind on your way up.
Enjoy the view from the top and pay attention to the signposting, as the route is not clear around the ruins themselves – keep right at the ruins and follow the steep path down until you reach the forest road and the lake.
If you don't have the time or inclination for the whole walk in Rø Plantage, you can cut out a good half by following a shorter route marked with red arrows and dots. It follows the yellow route past Lake Borgedalssøen and joins it again just before Borgen.
Places on the route:
On this hike, you get a chance to visit the following places: