Route description
If you set off from Hareløkkerne, follow the purple markers for a few hundred metres and then they split into two directions – this is because the first stretch of the route is also the last; you therefore have to choose from here whether to walk clockwise or anti-clockwise (you end up back here anyway).
Walking clockwise, you have to turn sharp left and climb steeply through the forest. The route takes a few sharp turns, but is well signposted, and soon you're on a gravel path along the Segensvej road. From here it's back into the forest and along a pretty bridge over the bird paradise Bastemose and past the pleasant Lindesbjerg shelter.
A few hundred metres later you reach the solid gate into Bisonskoven itself.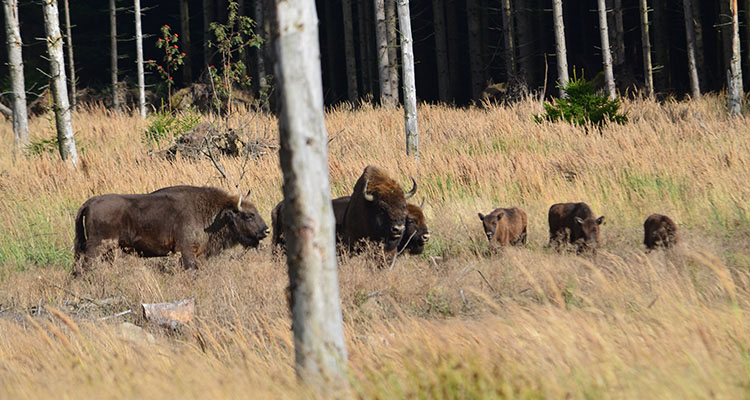 The Bison in Almindingen
The fenced area is about 200 hectares in size, and there are currently 10 bison living in it. Where they are exactly in the forest, only they know, so there's no guarantee of seeing them on your walk here. But you never know so follow the route around the bison's 'home' – it's a couple of kilometres long, alternating between small paths and wider roads in a loop around the densely forested and beautiful area.
Out of the forest again the route goes back towards Hareløkkerne mainly on wide forest roads. Keep an eye on the markings, as there are a few sharp turns along the way.
Places on the route:
On this hike, you get a chance to visit the following places: