Route description
It's just a few steps from the car park at Echo Valley House down into Ekkodalen, Bornholm's largest rift valley. It stretches two kilometres from end to end and is about 70 metres wide. It has been a tourist destination for as long as there have been tourists on Bornholm, and with good reason, because it's an impressive sight.
Turn left from the car park and follow the wide gravel path – stop here to test the echo. The best place to do this is by H.C. Ørsteds Kilde (well) about 20 metres from the valley entrance and just opposite Måneskinsklippen (Moonshine Cliff) – a high and steep cliff that reverberates the echo extra well.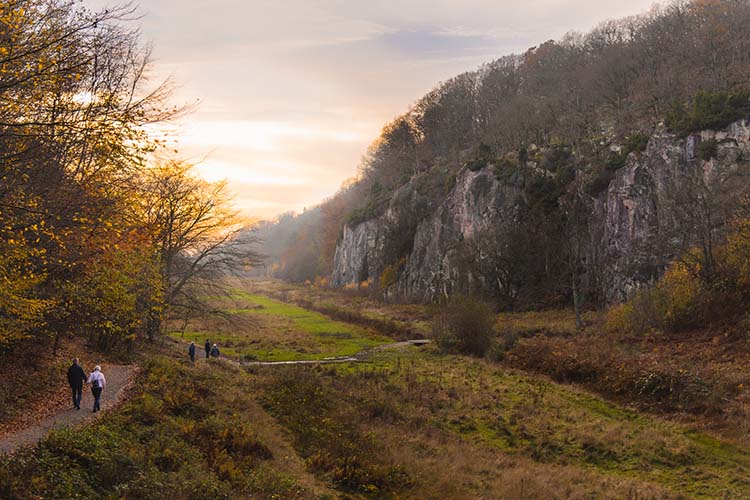 Ekkodalen er et betagende syn især klædt i efterårets gyldne farver
You'll have no doubt where it is, because in addition to signs, there are benches to rest on after you have exercised your vocal cords.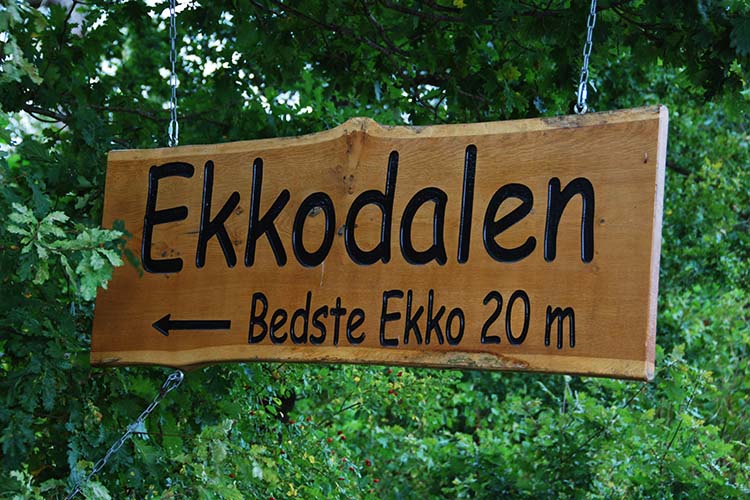 Skiltene viser dig vej til det bedste ekko
Further along, you'll cross the relatively newly built winding plank bridge that leads you dryly across the boggy valley floor, and from where you have a front row seat to the "Styrtebakkerne", the huge and steep cliffs on the opposite side of the valley.
At the end of the wooden bridge there are signs for several hiking trails – follow the red one, which makes a 90-degree turn to the left into the forest.
The walk back to the car park is under the tree canopy and, if you're quiet, it's not uncommon to see one of the forest's many deer here.
Finish the hike with a visit to the Echo Valley House restaurant (Ekkodalshuset) or a quick cup of coffee or ice cream from the cosy kiosk next door.
Places on the route:
On this hike, you get a chance to visit the following places: