Route description
The first part of the hike is like the easy red route through Ekkodalen, first along the gravel path and then along the footbridge through the bottom of the valley. Then follow the yellow markings (and the orange ones for Højlyngsstien), and eventually steeply up through the woods until you reach a wide forest road. Wave goodbye to Højlyngsstien, which bends left here – you need to turn right.
Keep an eye on the markings, because after a few hundred metres the route leaves the forest road and enters a rocky and uneven path close to the slope down to Ekkodalen.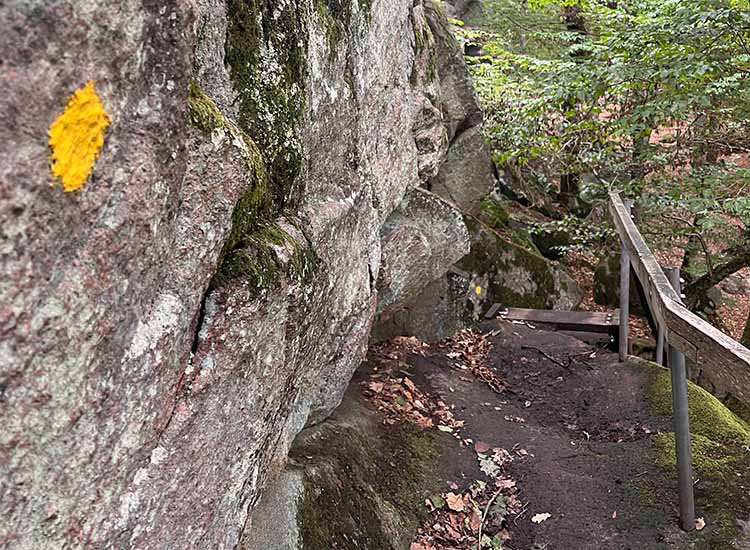 Make sure you wear good footwear when hiking on Klippestien.
The trail is not suitable for prams or people with unsteady legs – the view of the valley a good 30 metres below you is great, especially if you leave the trail and go all the way to the edge (but not TOO far).
Along the way, you'll pass Dronningestenen (Queen Stone), a flat rock on top of the cliff face, which according to history is named after King Christian IX'swife, Queen Louise.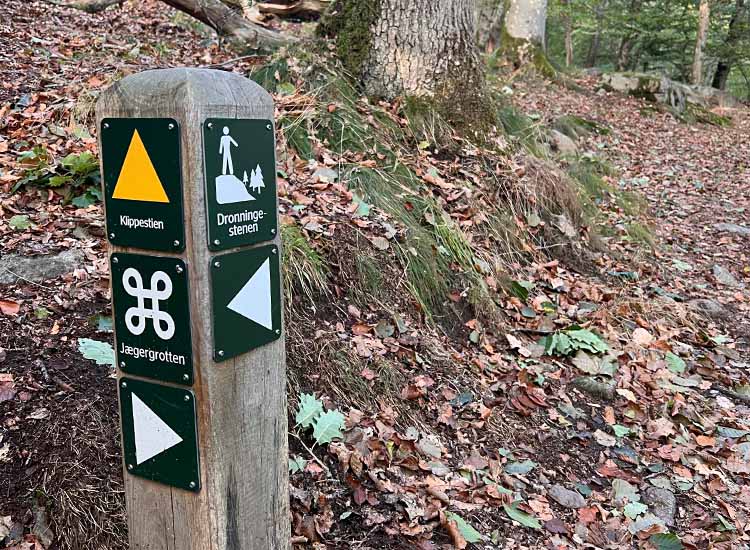 Jægergrotten is located at the bottom of the valley, but is worth a visit.
Several rocks were named in ancient times – for example, Røverspringet (Robber's Leap) Heksenes Danseplads (Witches Dance Floor) and Djævlebakken (Devil's Hill). There are no signposts to guide you to them, apart from Jægergrotten: An impressive rock formation created by meltwater over time. It's at the bottom of the valley, so requires a walk down and back up (marked), but it's worth the effort.
The path continues up the valley for a few kilometres before turning slightly into the forest and climbing relatively steeply up and down steps, rocks and forest bed.
Follow the yellow markings so you don't miss the last sharp right turn that leads you back down into Ekkodalen. You join the valley at what appears to be the end of it, so enjoy the view as you cross over and follow the wide gravel path back to the car park at Ekkodalshuset.
Places on the route:
On this hike, you get a chance to visit the following places: