Route description
Shortly after the start of the car park by Klintebygård, the route turns left into the forest and you pass Fjeldstauan, Denmark's first hostel, which is now a private summer cottage.
Then you reach a gently sloping valley in the forest, in the middle of which is Rokkestenen, Bornholm's largest of the many erratic boulders that the ice cap transported to this particular spot. It weighs about 35 tonnes and measures 4 metres on one side, 2 on the other and is 3 metres high. And you can rock it back and forth, if you do it right.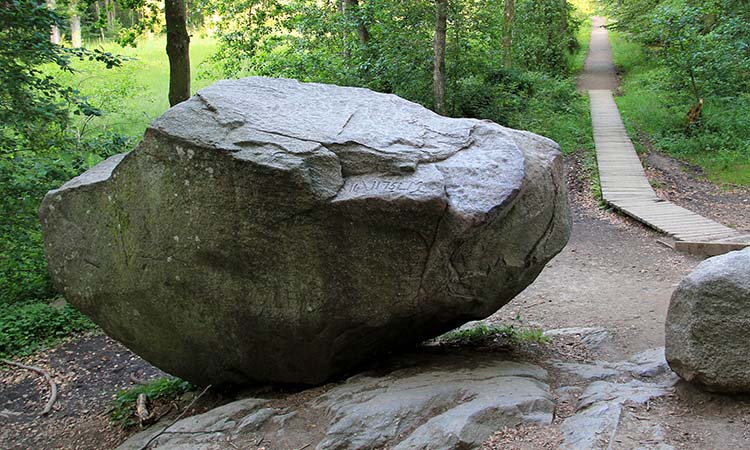 The Rocking Stone in Paradise Hills
From Rokkestenen, the route bends sharply to the left (keep an eye on the signs – it can get a little confusing once Rokkestenen has stolen all your attention) and you emerge briefly from the forest and onto a cliff overlooking Grydesøen (Pot Lake), a beautiful lake surrounded by dense forest.
It is possible to take a short detour down to the lake.
Follow the path to the right around Grydesøen. It is well signposted, so just follow the red circles and continue the last kilometre towards the car park along a relatively wide forest road.
Places on the route:
On this hike, you get a chance to visit the following places: