Sorthat
In order to get to Sorthat (Black Hat) from Rønne, you'll need to drive down Haslevej. Shortly after passing the city limits, you'll intersect with Nyker Strandvej. Here, you'll turn left and follow the road until you reach Havvej, at which time you'll take another left and continue until the road ends. At the end of the road, there's a small parking lot.
To the left, there's a year-round conservation zone where Blykoppe Å drains into the ocean. This means that there is only about 130 meters to fish to your left. To the right, there is another year-round conservation zone (with a 500-meter radius) at the estuary of Baggeå.  That leaves another 130 meters to fish to your right, which means the whole Sorthat stretch is only about 250 meters long.
Start by fishing the inner part of the reef, which is very interesting, since there are plenty of prey items for the seatrout to feed on here: Shrimp, gammarus and sandeel in particular – and they are rather vulnerable when the water is really pushing. Once you've fished the inner parts, concentrate on reaching further out.
If you pass through the conservation zone at Baggeå, there's a long stretch that you can fish on the other side. The locals really like it, so you might meet a few of them. They're very friendly, however, and who knows? You might get a good tip or two.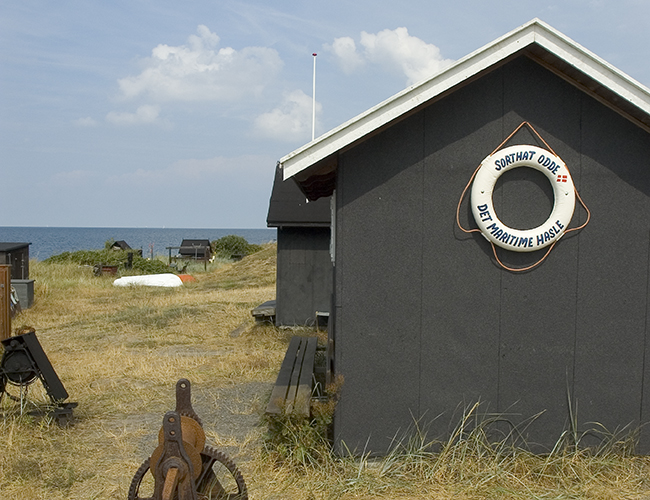 Levka
Levka can be found by driving from Rønne via Haslevej. Shortly after leaving the city limits, you'll intersect with Nyker Strandvej and here you'll go left and follow the road until it meets Levkavej. Here, make a left turn and follow Levkavej until the road ends. Follow the little path down to the beach where you'll be met by a sandy beach with boulders sticking out of the water further out. It's the perfect spot to fish, and you can fish both to the right and to the left (some 130 meters until you reach the boundary of the conservation zone near Baggeå (Bagge River)).
Start fishing where the path ends; a spot with sandy bottom mixed with small rocks and weeds. Then wade to the right. After approximately 200 meters, the bottom conditions switch from sand to cliffs and rocks, and this transformation zone deserves all your attention, since it provides the perfect hunting grounds for seatrout. Levka is well suited for both spin- and fly fishing.
Hasle Marina
Hasle Marina can be located by driving to Hasle Harbour. The northern end of the harbour is where Hasle Marina is situated, and it has its own parking lot. At the back of the marina, there is a small trail. It takes you to an area with cliffs and jagged old coastal protection, which can be a little tricky to walk on. Approximately 30 meters down the trail, you can start fishing.
Fishing here requires waders and a wading staff since the bottom is very uneven. This, however, might very well be the reason why the fish tend to congregate here. The bottom consists of boulders, abraded rocks, and lots of weeds and bladderwracks, and the whole stretch can be fished with both spin and fly fishing equipment.
Vang
Vang is a small idyllic harbour north of Hasle and you can park close to the main pier. You won't need waders to fish from the pier, but a long-shafted landing net is a must. Fish both the inner side and outer side of the pier and don't be surprised if you suddenly hook into a cod while casting for seatrout. The area around Vang Pier is uniquely rough and fascinating and will, undoubtedly, make you forget about time and place.

Hammer Havn
Hammer Havn (Hammer Harbour) is quite a unique fishing spot and it's a beautiful place to behold in all its pristine rawness. Follow the small trail behind the harbour until you get to a sandy stretch in the middle of a man-made bay with piers on either side. At the remote end of the bay, along the inner side of the pier, there are good chances of running into fish. You can fish here without waders, and especially during spring there are good chances of seeing seatrout hunting in the surface. Spin- and bait fishing methods are particularly effective here – and it's a great place to relax.