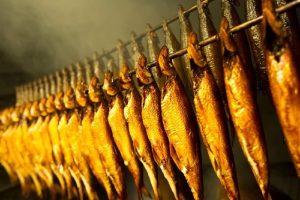 Welcome to Aarsdale Røgeri and Bistro. We look forward to kicking off the 2023 season with lots of freshly smoked fish and other delicacies.
The smokehouse's proud traditions go back three generations to the fisherman Anton Peter Pedersen, the first owner of Aarsdale Røgeri.
Since the beginning of the 20th century, Aarsdale Røgeri has smoked the real Bornholm herring and this tradition is of course carried on.
At Aarsdale Røgeri you can enjoy smoked products and specialties inside in cozy surroundings or outside with a view of the sea.